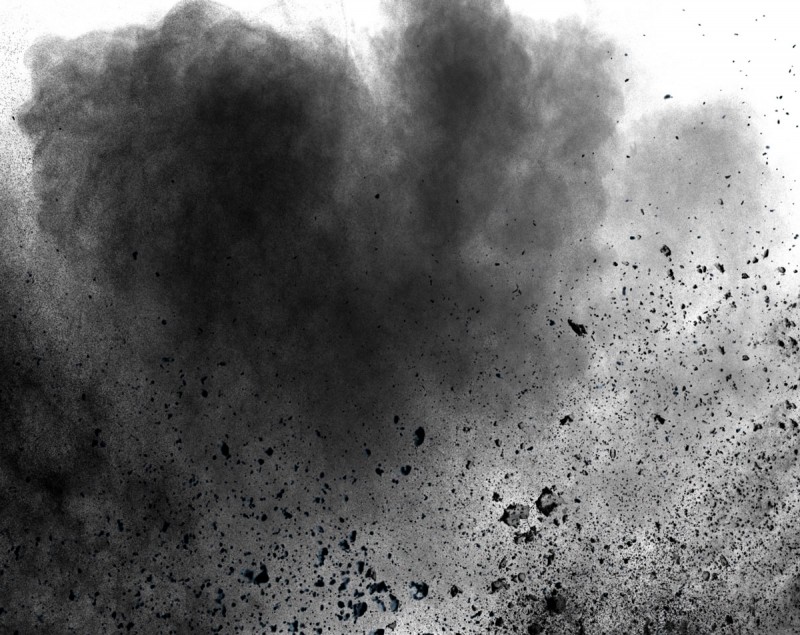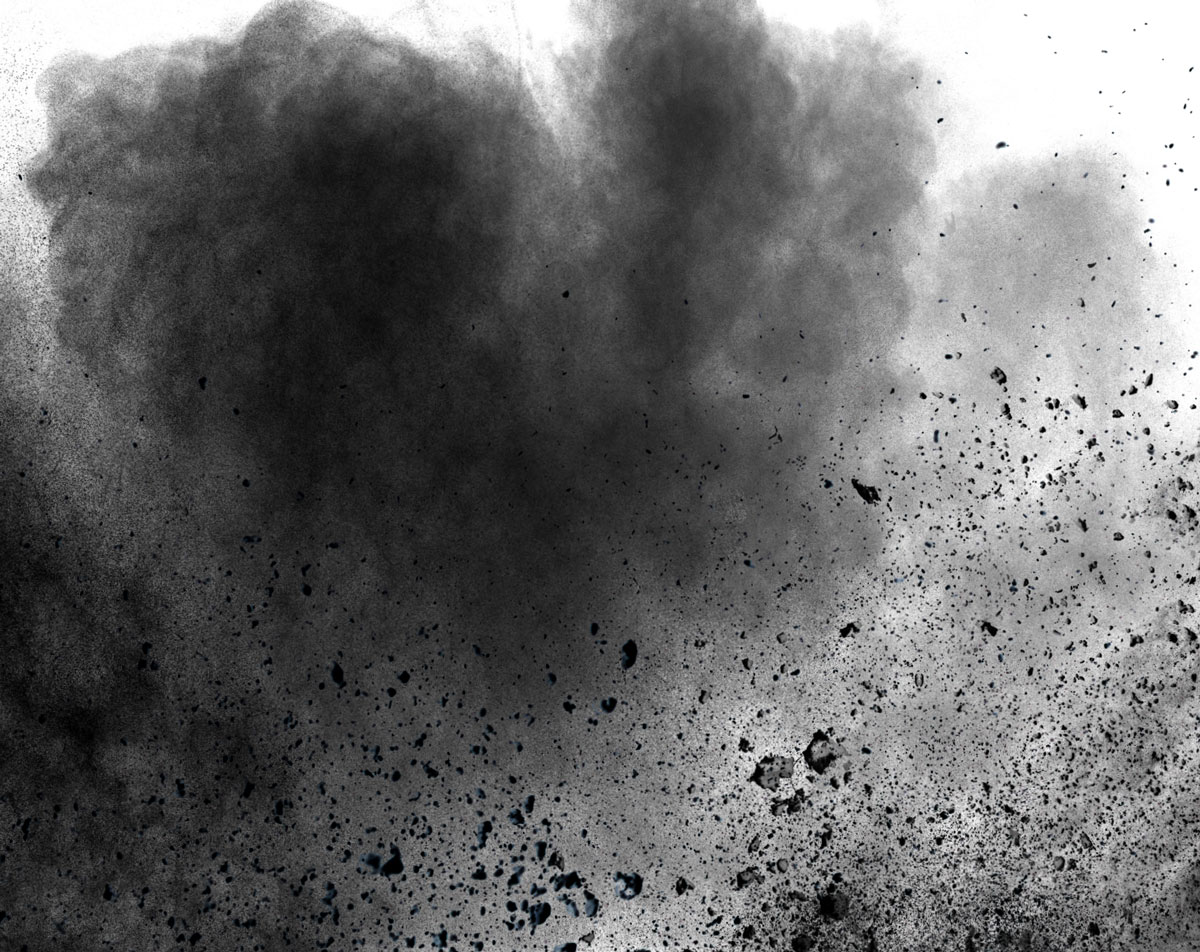 WHATEVER YOUR DUST GENERATING PROCESS IS

The SMAC industrial dust collection unit was designed for the harsh environment of steel mills. This means that for any dust-generating process you can think of, it can handle. Explosive dust? No problem, NFPA compliant gear is available.
SMAC units accomplish this with air intakes next to your dust-generating process, capturing particulates in an airstream as they are created.  These are then captured by SMAC filters and collected in a drum.  With our Pulse Action, Self-Maintaining technology, maintenance becomes a breeze.
Industrial Dust Collection Meets Self-Maintaining Technology
Check out this video to see how dust, smoke, and fumes are collected from your application by the SMAC industrial dust collector.
Dust is pulled in from ductwork or ambient air intake and captured by the SMAC filters. The clean air is pulled through the filter media, up into the clean air plenum, and returned to your plant through a return air duct.
'Self-Maintaining' technology keeps filters operating efficiently. Compressed air pulses down into each filter, automatically cleaning it from the inside out. The dust cake built on the filter is then knocked down through a hopper and into a barrel or bin for later disposal or material reclamation.
Designed for Performance. Built for Durability.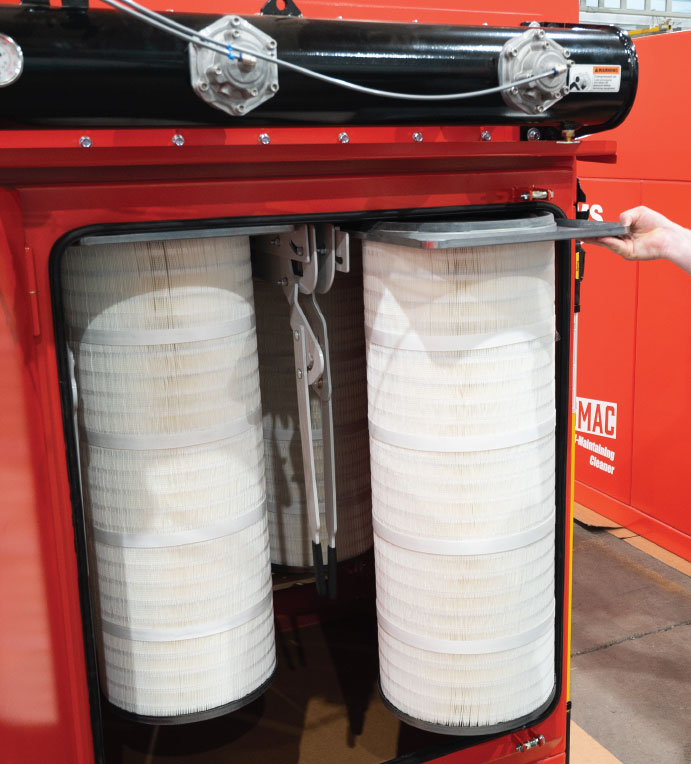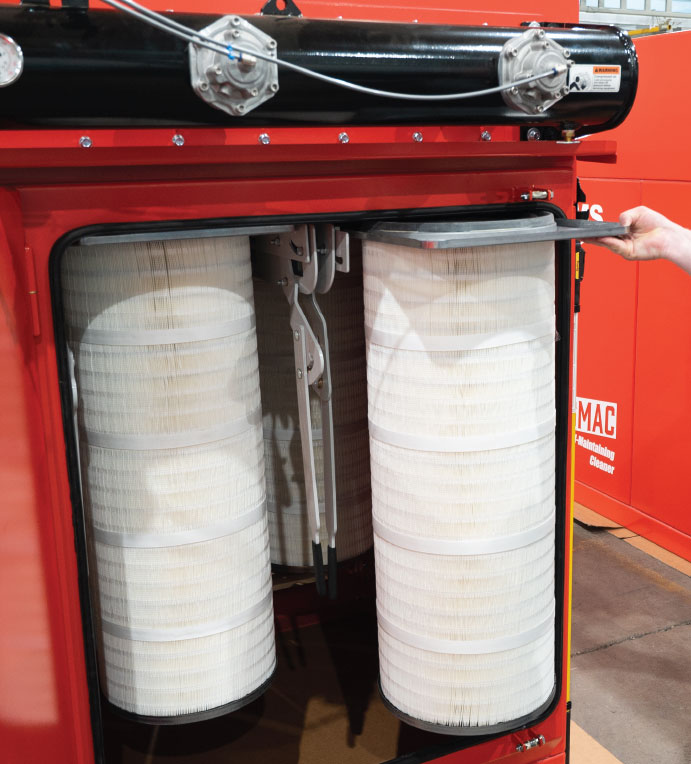 The SMAC has 10% more filter media than industrial dust collectors offered by our competitors. Self-Maintaining pulse cleaning delivers maximum cleaning performance.
Its heavy-duty design makes it ideal for the rugged environment in and around steel mills. Constructed of 10 and 12 gauge steel, the SMAC is finished with tough powder coat paint. An arched roof assists water and debris runoff. Also, no external bolt holes guarantee no leaks or rusty bolts.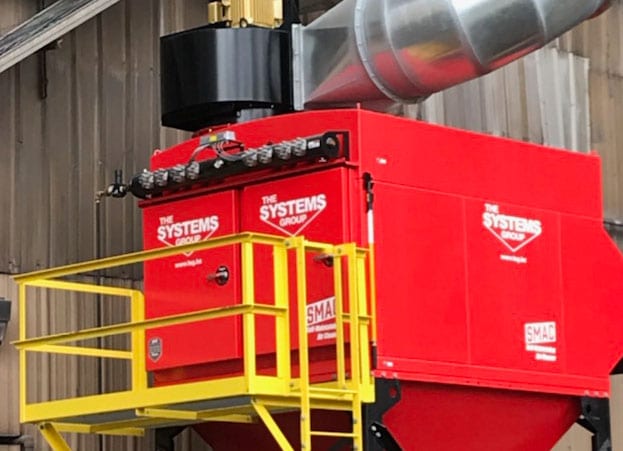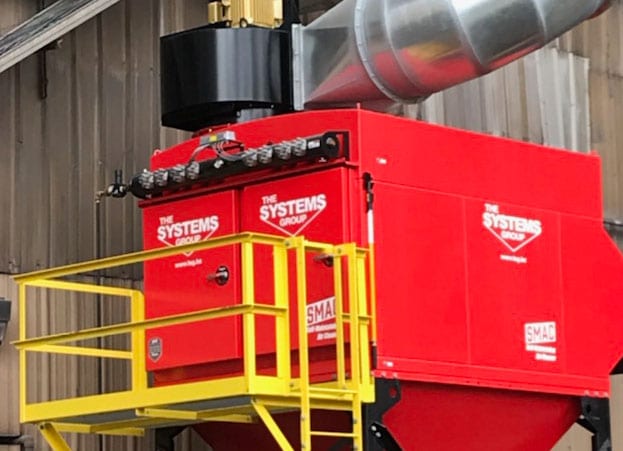 Industrial Dust Collection Applications in Steel Mills
Not contained properly, carbon dust can quickly become a nightmare to deal with. The fine particulates can damage machinery, be difficult to clean, and can be hazardous to human health when inhaled. Material loss can easily build up over time.  SMAC units address all of these issues, allowing you to protect your people and equipment, mitigating material loss. 
Alloy injections into a furnace can always cause a lot of dust, but lime injections in particular can be troublesome to manage.  Not enough air flow or too much moisture leaking in can cause serious headaches.  Our engineered for the application SMAC units take all of this into account, giving you a reliable workhorse to keep your furnace in operation. 
Railcar loading can generate plumes of  dust leading to major material loss over time.  SMAC Units can not only help keep things clean,  but can also mitigate material loss.  SMAC industrial dust collection units can also be sized to cover multiple loading bays with a single unit and multiple duct runs.
Modular Yet Engineered for Your Project
The modular design of the SMAC enables it to be configured specifically for your steel mill process that requires a dust collection system. It's capable of scaling to the size required based on dust load and airflow requirements.
So, not only is the SMAC the most durable industrial dust collector available, it can be custom-built to fit your needs.